Saturday a small group of us headed to Havana, Arkansas to run the Mt. Magazine 15k which climbs 1960 feet for the 9.3 miles. Our group consisted of Annette, Bailey, Rock, Joan and myself. Joan was the only one of us that had ever done this race, which really isn't a race at all. It is more or less an endurance run to see who can get to the top. One of the cool things about this race is that every finisher gets a trophy. And the object is for the last person to get the biggest one. Old trophies are brought to the race each year and donated to be tagged for the next years race.
I set the clock for 3:35am and we met the rest of the group at South Side Elementary at 4:45am for the 125 mile drive to the race. Luckily we could all fit in one car so I ended up driving Annette's CRV. This gave us plenty of room and good gas mileage. We did make one pit stop in Russellville for a potty break. Another 35 miles later we were driving up at the Havana High School parking lot.
By 8:00am everyone had walked to the starting line or what we thought was the starting line and we waited for some official to say go. A couple minutes past 8 a pick up pulls up and the race director gets out, explains the course and water stops, then says lets get started. On your mark, get set, go. There was no crowding the start line. You could tell that no one was anxious to take off fast. Ha, they had run this race before and knew what was ahead of them. There were a lot of first timers and we were some of them.
We started off at a moderate pace with Joan blasting ahead like she was in a 5k. Rock and I stayed together with Annette and Bailey not far behind us. I had never raced on a gravel road before so this was a first. Just before we got to the high school the gravel turned to pavement. From here it was all paved.
The first two miles were semi-flat, slightly rolling but not much in the way of hills. Before we hit a mile we turned on the road that goes up to the mountain and you could see the mountain looming ahead. It was very beautiful. The weather sucked though, it was very warm already. Mile one and two went fast, running slower than my 5k pace trying to conserve energy for what was ahead but ended up with a 9:43 and 9:48 pace. I took a quick break at mile two to get a drink from my water bottle and kept running. I knew the mountain started somewhere around mile 3. Between 2 and 3 we had a couple hills with one downhill but not enough to run super fast. There was a water stop at mile 3 which we took advantage of. We were already sweating a ton.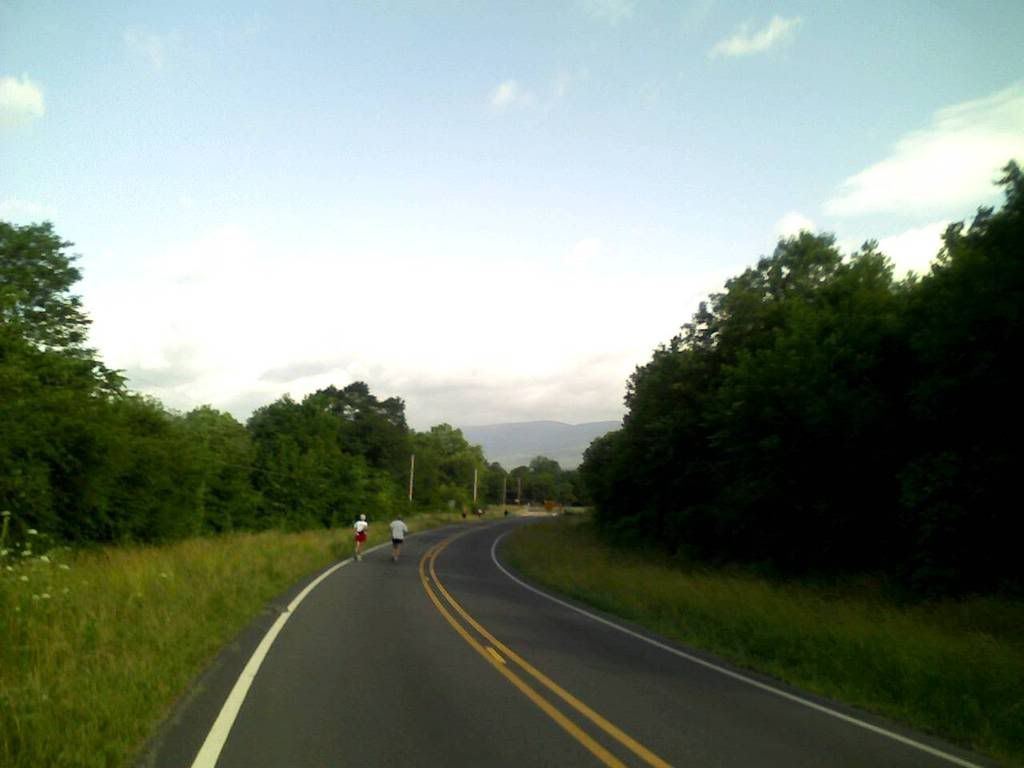 Between mile 2 and 3 I think-beautiful country
Then the mountain started. It was a steady incline up and never ending. I would think I saw a crest or flat spot then only to be disappointed that it was a curve. The curves were hairpin curves that were really hard to run on because of the angle of the road. Rock was kind enough to run with me up to about mile 5. I kept telling her to go on and not to let me hold her back. I knew I was though but she was OK with it. We would run a little bit then walk. Run then walk. The further we went up the mountain the harder it seemed and the shorter my run distance would be. We got to the point where we would pick out signs and run to the sign, then walk to the next one. I walked a lot, but also learned a lot about walking fast. I was concerned about my IT flaring up and had wore my IT strap just in case. So I did take it easier than I could have. The hot temperatures really made it seem harder than it was. I would just run till my thighs started hurting then walk. It didn't take long for that to happen each time either. The only consolation I had was that there were a couple other Grand Prix runner guys around me that were doing the same thing and they were always faster than me in races. So I kept up with them anyway.
Mile 5 had a water stop with cookies, banana's, oranges and drinks. At mile 7 there was another stop. They really did a good job for this race. By the time I hit mile 8 I started wondering if I could finish in under two hours. I started calculating and figured if I could run just over a 10 minute mile I could do it. After a couple fast tries I gave up on that theory. There was no sprinting up the mountain for me. As I rounded the last big curve at mile 9 I could see the finish line on top of the mountain. There was still one more hill to go up to get there. I did pick the pace up at the end and let one guy pass me. He told me as he passed that he didn't want to make me mad and he wasn't racing me. I told him that was OK, I would help push him to the top and I did. Plus I was thinking I got a bigger trophy!
Final times: Rock was the king of our group finishing in 1:54:57. She just barely caught Joan at the last mile. Joan finished in 1:55:15. Did I mention that Joan is like 66 years old? I think she still holds the 15k record for her age group in the state too. My final time was 2:06:24 and I know I could have done better but the unknown slowed me down a little plus the heat and humidity. Annette and Bailey ran the whole race together and finished at 2:13:34 and 2:13:35.
After everyone finished we had cookies, watermelon, more cookies and more cookies! When the last finisher crossed they started giving out awards based on your male or female finishing position. I was amazed that one young girl won overall with like a 1:08 something. Unbelievable! She would probably break the state record on a flat course. The trophies were really cool and some were kind of weird. Mine actually had a coach on it and had my finishing position. 29Th Male. I think there was 48 males total and around 20 females so it was a pretty small race but hey, none of us were last!
This was the top of the mountain and we had run from down there.
Annette, Bailey, Joan, Rock
I will have to say this was a very fun race and it was different. It was nice not having to compete as the main goal was just finishing. Next year I can set a goal for this race since I now have a time to beat. And the t-shirt was the best part of all. On the back it reads "Only One Hill" but it climbs 1960 feet in 9.3 miles!