LR Half

Marathon

Report

We arrived at the race site 45 minutes before the start after caravanning with several car loads of Cruisers. Temperature was about 58 degrees which felt semi-cool but it was not bad at all. We all lined up heading east on President Clinton Blvd. awaiting the start. Annette, Michelle, Bailey, Kelly and Vicki were all back by the 4:30 pace group so there was quite a few people ahead of us. No big deal, we should get to the start in a minute or two.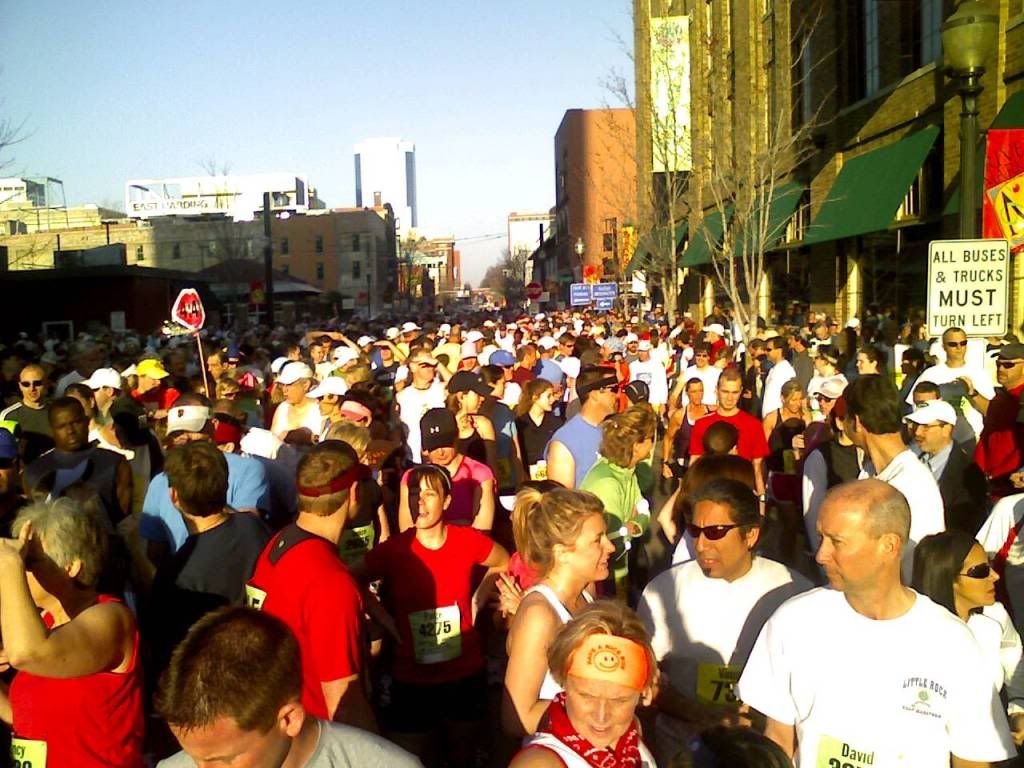 Mass of humanity waiting to race

At 8am we were off, or at least walking. Once we got to the start line people were able to slowly jog and before you knew it we were jogging (not running) and dodging walkers! Walkers, why do they start with the marathoners in the pace groups? They should start either before the official start time or in the back. In any case, it was a mass of humanity to weave in and out of which slows things down. This was probably good as we all wanted to run about a 10:25-10:30 pace the first couple miles.

Mile 1 – This is where things started to warm up. The skies were clear and the sun was getting higher. I realized pretty quickly that this was not going to be an easy fun run. I was already starting to sweat. Kelly bailed out of the group somewhere in here and headed for a porta potty. I wondered if she would pass me later. It was not far from here that I lost the girls. I was on my own. 10:20 pace.

Mile 2 – Took us down Broadway and across the bridge into North Little Rock. The best part was seeing the Little Rock Fire Department ladder trucks with the American flag hung high over Broadway as we ran towards the bridge. Pretty cool! The bridge was not bad, I was still pumped and running on adrenalin but I could really feel that sun beating down on us. Still running solid at this point, maybe a little fast as the average started dropping. I was beginning to think about the upcoming water stop. After crossing the bridge the stop wasn't where I thought it would be so I kept going. I think it was at about 2.7 maybe, so I grabbed a quick cup of water. 9:42 pace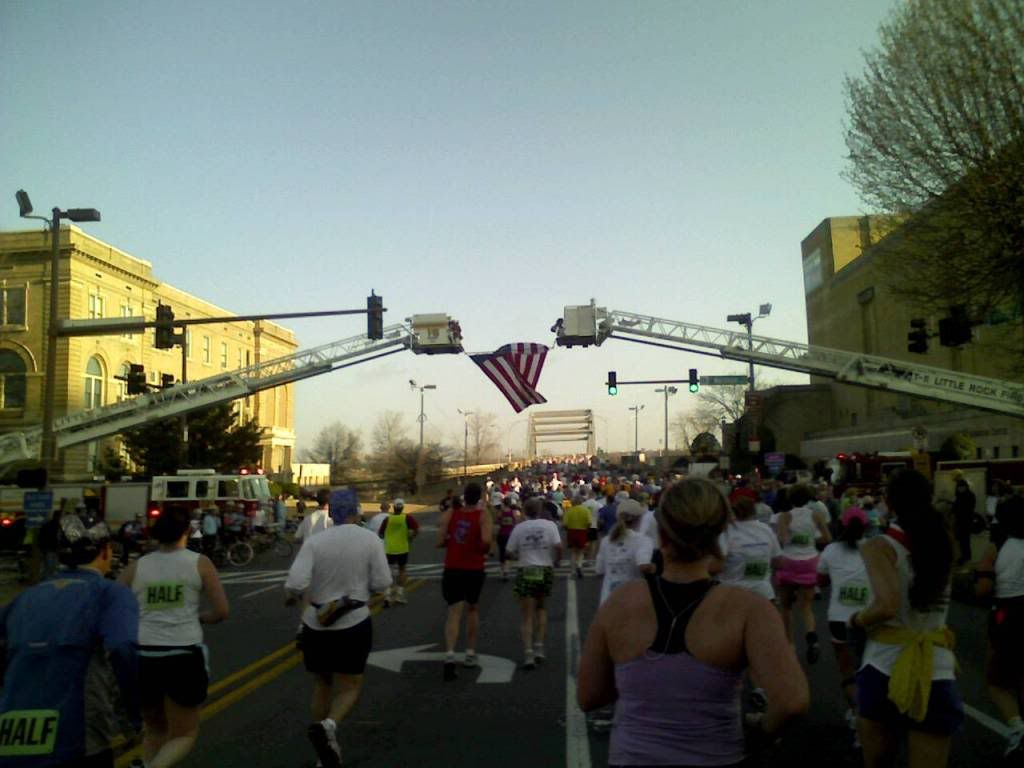 This is always the coolest sight




Mile 3 – Mile 3 took us down Washington and then back up Riverfront back to the bridge again. Just a big loop actually. Sweating like a dog now. The sun is hot. I'm thinking I'm glad I have my own fluids today. 10:13 pace

Mile 4- Quick water stop here. I was starting to think I may have to walk every mile to keep hydrated and feeling good. Started back up the bridge and I was passing people like crazy. This was one of the steeper hills on the course. About the middle part of the bridge my Garmin hit mile 5 so I took my walk break. 9:43 pace

Mile 5 – I was still feeling pretty strong. My pace was right where I wanted it to be. I think it was an average of about 10:06 at this point so I was happy, but getting wore down from the heat. There was another water stop before mile 6 and I went ahead and did my accel gel here as I knew we would be getting into the hills soon. 10:11 pace

Mile 6 – The turn from 3rd to Ferry St. meant we were heading into the neighborhoods and the hills. No biggie other than my legs were really feeling tired and my left foot was starting to hurt. Took another break in here somewhere. Slowing down at this point. 10:39 pace

Mile 7-9 – These miles started to be torture. Or at least it seemed that way. I had to force myself to keep pushing. Sometimes I'd win; sometimes I'd loose and have to walk. I usually don't walk this much so what's the deal?? I felt like I was having a terrible race at this point. My average pace had dropped from a 10:06 down to probably a 10:20. On top of that my left calf had some weird twinges so I was having visions of Tulsa, mile 8 again where I started hurting. It was a big mental game at this point. I was thinking about that time that I sure wish I had one of the Cruisers to run with to help keep me going. I started changing my goals. My ultimate 10:04 average pace which would have given me a 2:12 finish was gone. I still had a shot at my low goal of a 2:18. Paces here were 7-10:27, 8-10:50, 9-10:33.

Mile 10 – I think it was just before mile 10 when I happened to run upon no other than my lovely wife Annette. She was walking. So I waked with her and we talked. She was struggling and couldn't figure out why. I said I had the same problem and didn't understand either. I came to the conclusion that maybe it was the added heat. We had been training in weather no warmer than 52 degrees for weeks and now it was almost 70. We ran together a little bit and she said she had to walk again. I could see water stop up ahead so I told her I was headed there and she would catch up to me there. Well, I did the water stop but Annette wasn't there when I was ready to go again so I took off. I knew how she was and usually she really picks it up at the end of runs and races so I thought I better get ahead of her if I want to have any chance at all of beating her or finishing with her. I was still struggling here though and I took some extra breaks thinking Annette was going to be there any time. 11:47 pace

Mile 11 -12 – These were just getting it done miles for me. For some reason the hills didn't seem as bad as last year but I just couldn't keep up a good solid run. I would run mid 9's for maybe ¼ to ½ a mile and then I'd have to have a break. Some of this was not bad. My pace started coming back down a little. I was ready to get this done. We had some decent down hills on this part of the course but I wasn't running too fast downhill as I didn't want to get injured. Close to the end of 12 we had a big downhill before we turned on to LaHarpe. Good place to catch your breath. 11- 10:47 pace 12-10:34 pace

Mile 13 to the finish – After turning on LaHarpe I was hoping I could run it in all the way but I couldn't. There were several hills on this last part of the course, not monsters but little rollers. I went up all of them but I took a couple walk breaks too. I wanted to do my last walk break just so that I could sprint in to the finish and make up all the time I could. I kept thinking that 2:18 was possible still. It would be hard to make though. And every time I would get fired up and go, I would run out of gas and slow down or have to walk. About .2 from the finish I heard an announcer say for everyone to get over, the marathon leader was fixing to come through. Well, that was enough for me. I wanted to race the guy! Ha…might be my only chance to race an elite runner. So I punched it, and I ran all that I had to the finish line. I never saw the marathon leader; someone said he came in a minute or two behind me. During my sprint I did hear a familiar voice. It was Jackie and she was saying how great I was doing, I didn't even realize that I had passed her. She would have been one of those that I would never think I'd pass in a race but later I found out that she was struggling with some issues too. Vicki also struggled so I felt a little better knowing that it wasn't just me. I was pushing it so hard at the finish line I almost peed in my pants! After getting my chip off I saw Kelly, Michelle and Bailey. They all did AWESOME! I headed for the bathroom for relief. Annette finished about 3 minutes behind me.

Final gun time - 2:21:59

Final chip time - 2:19:05 (unofficial)

Avg. Pace - 10:26

I'll write more tomorrow about the post race activities.