Yesterday I went down to the
River Trail
and did my longest run in almost two months. This was a test run to see how the leg was feeling before I go back to the doc on Tuesday. I ended up with 4.5 miles and a very slow overall pace of 11:42. It seems I have lost some endurance though my legs felt good and really strong. I purposely did not try to run fast, but I could tell by my heart rate that I had lost some of my training. I did power up every hill with no problem. I just seemed to tire quicker than normal but that all relates back to how hard the heart is pumping. Others have told me that it won't take long at all to get back to where I was.
It was a beautiful day but very cool on the River Trail. Temps at my 8:15am start were about 33 degrees but I quickly warmed up.
This was me, warmed up after about 2.5 miles
The plan was that after everyones run we would all meet up at the Boulavard Bread Company down at the River Market for breakfast. There probably ended up being 8 or 9 total that showed up. We sat around ate and drank coffee till almost noon.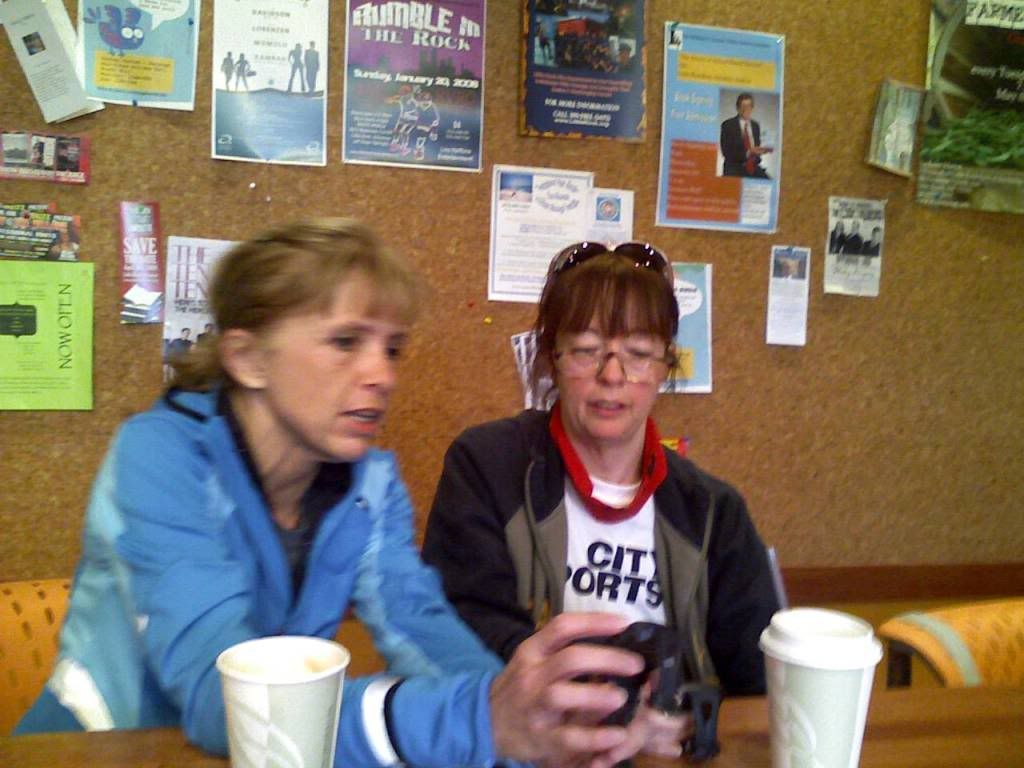 This was Cheryl showing Annette how to set up a different screen on her Garmin
It was nice to get back to running even though I felt a lot like I was starting over again. The good thing was I only had the normal soreness and should get a full release from the doc. We shall see.

Saturday afternoon and night all I did was run fire calls from about 3pm till 9pm. It seemed like every time I'd get back home from one I'd have to go out on another. We had one call where an individual was burning in his yard and set a tree on fire. First time out we put about 600 gallons of water on it. But that wasn't enough, after the wind started blowing we had to go back out there again. This time we put probably another 1000 gallons on it. The tree needed to be cut down but that really wasn't our job. We did get it out and didn't have to go back in the middle of the night thank goodness. On top of that I think we had two or three other small grass fires from people burning.