Since I have been sitting here trying to write about several different things tonight and then changed my mind, I decided I'd do a little fire truck history. One of the firefighters at my station is in ICU in Russellville due to a motorcycle accident and he loves this old truck so I wanted to do a little show and tell. Get well soon Reginald!
The truck in the photos is a 1975 Mack Firetruck. I am the Captain on this engine and the primary driver most of the time. We purchased the truck in 1995 after one of our firefighters was killed in an apparatus accident. Dania Stivers was the 1st female firefighter killed in the line of duty in the State of Arkansas. Thats another story for another day.
The first photos are from an add in Firehouse Magazine in 1985. The engine was originally Engine 1 in Portage, Michigan. They bought it new in 1975. Ran it as their first due engine and in 1985 sent it to Pierce Manufacturing to be refurbished (rebuilt). It continued to serve the people of Portage until almost another 10 years later when in late 1994 it was sold to Deep South Trucks in Mississippi. You can see in the top picture the way it looked new(1975), and the bottom part was when it had its first refurb in 1985.
Deep South Trucks did another refurb on it in 1995 and thats when we purchased it. Another 12 years later it still looks like this below. Not bad for a 32 year old truck!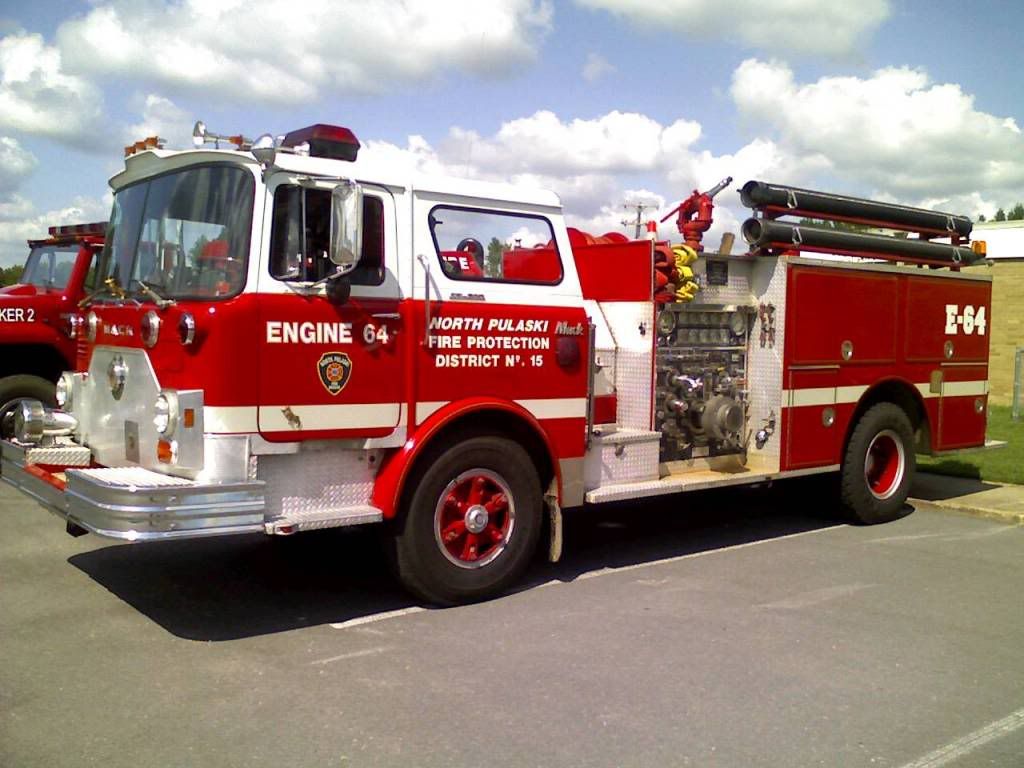 If this engine could only talk, it could tell 20 years worth of stories from Portage, Mi and so far a little over 12 here in Arkansas. It has put out many fires and pumped thousands of gallons of water. I can say one thing for sure, they sure don't build trucks like these anymore. I feel honored to have been one of the select few that has driven and loved this truck. We have applied for a FEMA Grant to purchase a new truck to replace this one. If we get it the old Mack will become a reserve pumper and will most likely never get driven much. A new truck will be nice but it will be tough to beat this old truck.