Ok race fans, here is my attempt at a race report. Actually I could write a lot more but hopefully this sums most of it up and I apologize in advance if it's too long.
Tulsa Route 66 Marathon – 11/18/07
Pre-race:
Annette, Kelly and I all drove down together early on Friday morning. After getting checked in to our rooms, we tied to find a place to eat. We were staying at a Hampton Inn in Sand Springs. We drove around for a while and couldn't find anything but fast food. We wanted something good! We found a Western Sizlin and stopped there but about that time a whole football team arrived so we just left. We didn't want to wait in line. From there we just went on down to the Expo.
Let me tell you, the roads around Tulsa are some of the worst I have seen when under construction. The exit to our hotel was blocked off and the exit to the Expo was blocked off with construction. No detour signs or anything. The downtown area looks like a war zone with road construction everywhere. Somehow I lucked out and found the Convention Center.
The Expo itself was ok. Not real big but there were several running stores there with some good deals. We got our race packets, bought a few things and headed back to the hotel to wait on the others that were coming in that evening. After some of the others arrived we all wanted food very badly. Since there was nothing good really close by, we opted for the Western Sizlin we had been at earlier. It was still a good meal.
On Saturday morning we met with Brenda, Vickie, Paulette, Kim, and Kelly to do a short run in remembrance of Ryan Shay who died during the Olympic Marathon Trials in New York. I only ran 2 miles, Annette, Kim, Brenda and Kelly did 3 miles. Vic and Paulette just did a walk. It was sunny and very warm, even though it was 45 degrees.

Saturday Morning Run - Kelly, Kim, Paulette, Annette, Vicki, Kim
Later that morning we went to the expo again so the others could get their race packets. Several other Cruisers were driving up Saturday morning and they were going to meet us there. We did the whole expo thing again, but we were getting hungry again. We decided to eat a snack there and wait on the others then go eat. Well, things took longer so we decided to find the race course and drive it. Somehow I found it. I guess I was lucky again. We didn't drive it all but got a general idea of most of it. We didn't however anticipate the hills that we would run in the race. That was probably a good thing though. After that we headed back to the hotel to wait on the others. The plan was to go to dinner early so our food would have time to settle.
We ended up going to Spaghetti Warehouse in the downtown area. Somehow I got picked to be the lead vehicle and by some stroke of luck I drove right to the place. I think there was a total of 15 of us there for dinner. It was awesome!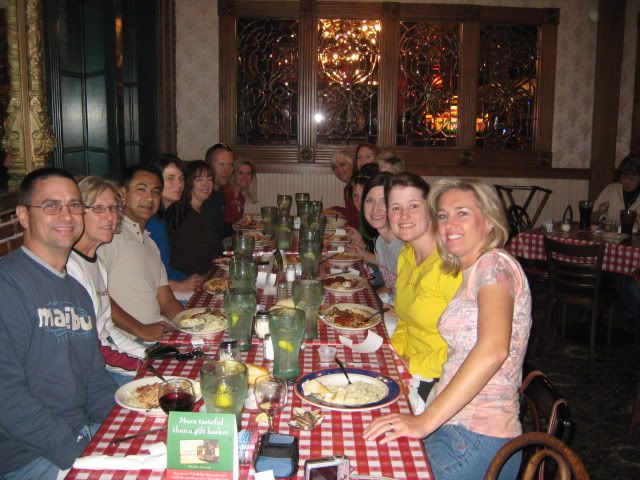 Carb loading Saturday Night




After getting back to the hotel everyone went to their rooms to get everything ready for the race. We were all getting very anxious and excited at this point. I actually slept really well that night which was a big surprise.





Race Day:
We were all up early Sunday morning to hit the continental breakfast before leaving at 6:45am. Everyone arrived at the race site together around 7:15am. I think there were 15 in our group with 3 carloads of people. The weather was perfect, about 45 degrees at start time. I think it was cooler than that actually. As the race went on it probably got into the upper 60's to low 70's and there was a little fog along the river early.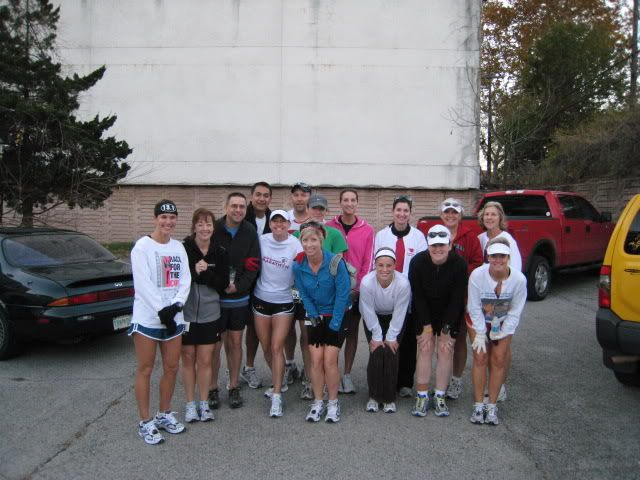 The group - Front row: Rock, Annette, Bob, Lisa, Jane(blue), Cindy(green), Andrea,
Susan
, Brenda
Back row: Rick, Me, Kim, Kelly, Vicki, Paulette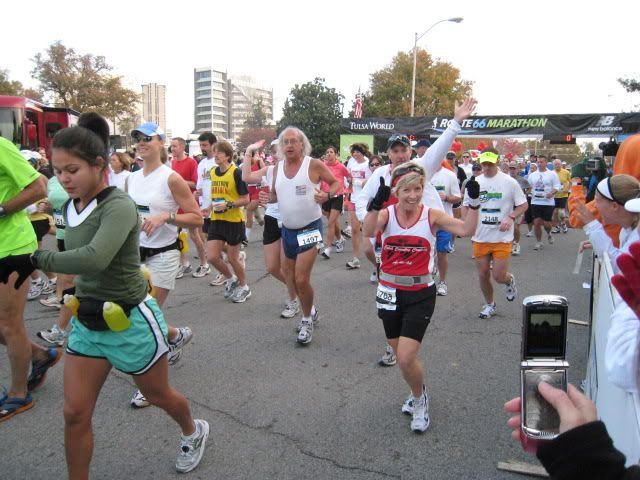 The race has begun!
After the start, we went 300 yards and then had an uphill to a bridge that crossed the Ark. River. By mile one I was ready to dump my throw away shirt. Jane and I ran together for probably 23+ miles which really helped me conquer this beast. There were several cool bands playing during the first 3 miles and then one every now and then afterwards which added some fun. We had our pace down, our nutrition down and were just behind the 4:45 pace group for about 4-5 miles. We tried to slow it down a little with our pie in the sky goal being anything under 5.
At about mile 7 I started having issues with my right leg just below my knee on the outside. Still not sure what it is. But I felt it all week thinking it was just pre-marathon pains. We were doing the run/walk program and took our quick walk breaks pretty religiously every mile. We were probably 1-1:30 ahead of pace at this point then at mile 8 I had to stop for just a few and try to stretch my leg so we lost some time here. It didn't help any that there was probably only 8 miles or so that wasn't concrete in the whole race! By mile 9 I was thinking there is no way I can do 26.2 with this leg acting up. For a split second I thought of DNF then I thought no way. I'll finish if I have to walk or drag my leg in. It was very hard to get moving after the water stops. I probably looked like a lame horse or something but I was determined to finish. The 5:00 pace group passed us around 8 or so and I knew we couldn't hang with them. That was kind of a downer. At that point it was just about finishing. Once I got running I was ok which was weird. Walking hurt worse, running was not bad. A few times we even ran extra hard to make up time. I think we took a bathroom break around 10 which always loses time but we kept moving forward. After 13.1 I took 3 Motrin to help the leg and a mile or so later it actually felt better but it was too late to make up the time.
It was pretty humid, and we did sweat a lot. Lucky for us we packed our own stuff because the water stops seemed too far apart and I only saw a couple that had gels. They were spaced about 2-2.5 miles apart but we ran past a lot of them.
Somewhere around 14 we went through the town of Jenks. It was really cool as it had little shops along the road and they were all playing Christmas music. It was deserted though except for the runners so it was some what surreal.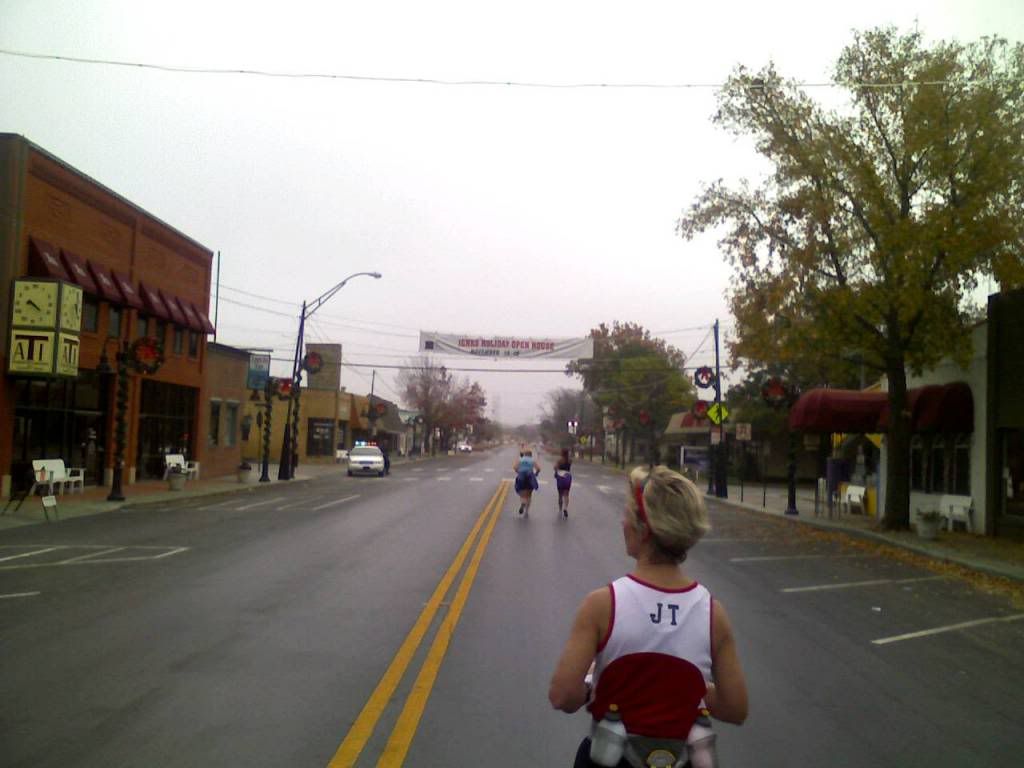 Jenk's looked like a ghost town.
By mile 15 I had actually figured out how to start running again after walking. If I bent my knees and squatted down with my hips a little it was easier to start and much faster. Usually it's a struggle for me when I get more miles down. Today it was a struggle from 7 on. Having someone to run with made all the difference in the world and without Jane I would have struggled much more. I think we helped each other a lot, if nothing else we always knew when it was gel time and when it was electrolyte time. We did a gel every hour and electrolytes every 30 minutes or so. Every mile we got a drink from our bottles. I'd have to say nutritionally we did it right. We never hit the wall.
It seemed like from 14 on the miles were longer than a mile but we knew they were not. Around mile 18 there was a band playing some head banger music and they were singing something like "you're not going to make it". It was weird….we needed some good rock and roll and did not want to hear that crap! I think at 19 we had some Belly Dancers on the corner. They were just standing there so I told them to start dancing, we needed some motivation!
Mile 20 was a nice sight to see, I told Jane that it would be like walking on the moon after this, going places where we have never been, but then the race director tricked us. We turned into a nice little area with bars lining the streets and there was a big Star Bucks. The first one we saw in Tulsa in fact! At the end of that street we made a left and then it was all HILLS! These were not little hills either. The race director told us on Friday that it was only gently rolling hills. Wrong!! These were close to Greystone hills. The bad thing was it was like this up until half a mile from the finish. There was not very many nice down hills either. Needless to say, not very many people were running up these. I ran up a couple which felt good on my calves but after 21 miles, I really didn't want to get a muscle cramp at the end and with the bad leg I was pushing the edge anyway. We plodded on, and I think at about mile 23 Jane went on ahead of me a little ways. I tried to get her to earlier but she wouldn't.
This is usually the start of "The Wall" but it was the home stretch for us
There was a couple decent short down hills around 25 that I took advantage of. At one point I thought I might finish under 5:25 then I'd see another hill so I had to re-adjust. Then it was 5:30, and then it was 5:35 which I did beat. All the hills at the end were just WRONG!!

Kim, Kelly and Annette running me in to the finish

Just before 26 after I turned the corner I saw Annette and some of the girls running towards me. That was a sight for sore eyes! They ran me in till just before the finish chute where I did a short sprint to finish it off. The rest of the group was all there cheering me also as I rounded the corner. It was awesome!! Final chip time, 5:32:45.
Me running to the finish line
I actually still had some gas in the tank at the end but the leg just didn't work good, mainly walking. Walking afterwards was probably harder than running those hills. I moved very slowly, but it's just the calf or whatever is wrong. My hips were really starting to hurt on those hills too. Afterwards I got my medal which is AWESOME and my finisher's shirt which is a long sleeve tech shirt. I did get one piece of Pizza but all the food was gone.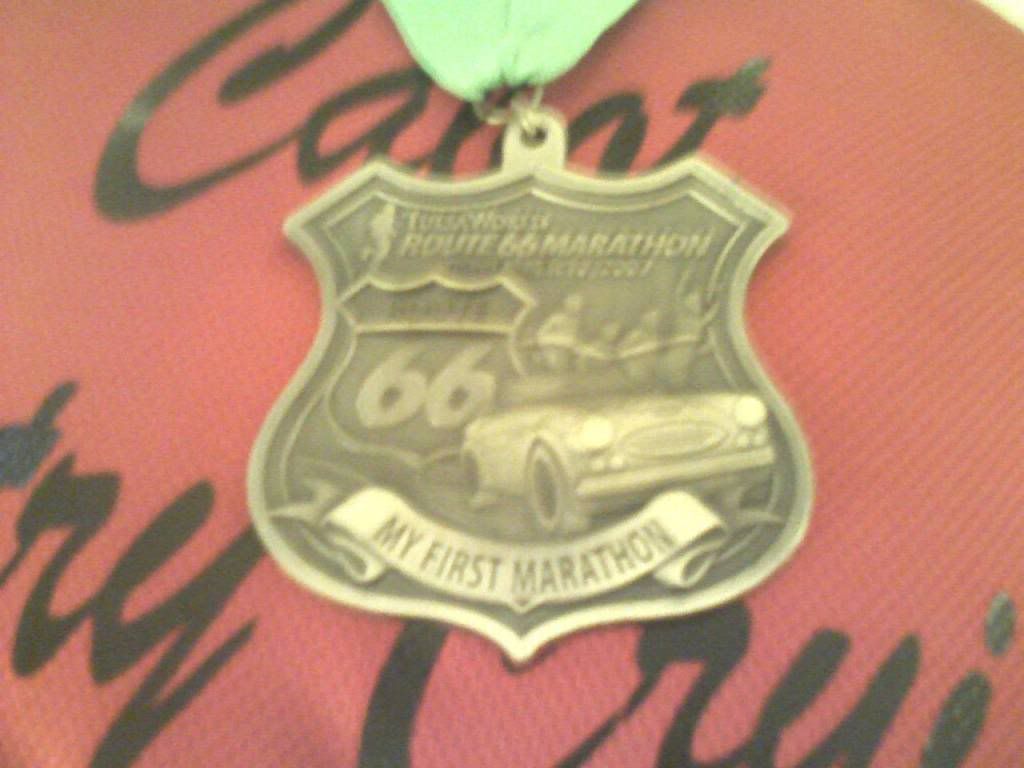 The super cool "My First Marathon" medal. You can't buy this, you have to earn it!
The best part of this whole experience was the support of all the Cruisers. Just knowing that they were all waiting at the finish helped to keep me motivated. I was not going to DNF and let them down! Annette finished her 1/2 Marathon in 2:18:15 and set a new PR. Jane's final marathon time was 5:30:07 and was her first marathon.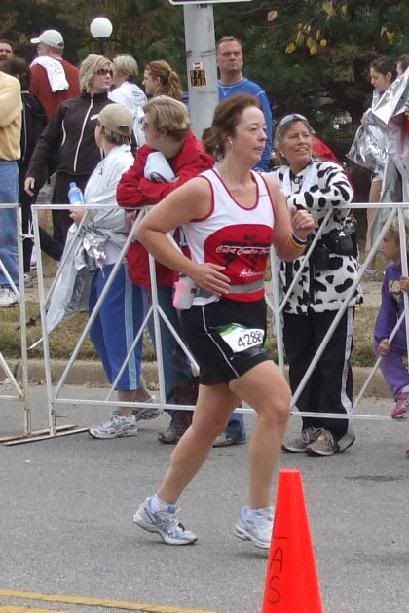 Annette finishing her 1/2 Marathon

Will I do another?? Heck Yeah! Even though there were many times I was thinking why in the world were we doing this, it was still a lot of fun. One other thing about this race was the marathoners that were running with us at times were so nice. We carried on conversations with so many people and they really liked our Cruiser singlets. We met and ran with one guy that ran a marathon in Mountain Home on Saturday and then Tulsa Sunday. He said he has run 79 marathons so far since 1999. He doesn't run them for speed, but for the accomplishment.
I can say this was one heck of an accomplishment and yes, it was hard. I could have had a much better time if it hadn't been for the injury but like everyone says, you just never know what the day will bring till it happens. I was lucky to finish.

Post race - I can barely walk this morning. My hurt leg does not want to cooperate at all. Sleeping was hard last night, I think everything from my hips down was hurting. But this is what the marathon is about. Conquering and overcoming whatever it throws at you. Guess it's on to recovery now.
Here were my mat time splits:
10K – 1:09:57 – 11:17 pace
15K – 1:52:22 – 12:05 pace
Half split (13.1m) – 2:35:52 – 11:54 pace
27K – 3:27:06 – 12:25 pace
33K – 4:17:28 – 12:34 pace
Final - 26.2 miles – 5:32:45 – 12:45 pace
Avg. Heart rate – 162
4142 Calories
Special thanks first to my wife Annette for being there for me and taking part in almost all of my training runs and taking care of me post race. Jane, for being a great running partner and putting up with me for 23+ miles along with several training runs. Vickie, for her experience, advice and inspiration throughout my journey. Brenda for always having the right training routes along with inspiration, advice and caring. Coach Dennis for his encouraging words that always kept me thinking "I can do this." And of course, all of the Cabot Cruisers which are too many to name. Their support, experience, wisdom and inspiration always kept me thinking that there is no way I can fail.