Big Dam Bridge 100 report – 9/29-07
First off, the day started out absolutely beautiful. Could not have asked for better weather for the beginning of a 100 miler. Since this was my first ever, I really didn't know what to expect, other than I knew I could ride 40-60 miles without a problem and had done quite a bit of hill training during the summer. The running added to my fitness level. I was a little concerned at the start of the race with so many bikes starting at once. It was really a lot like the start of a big running race, once you went a little ways, it would thin out.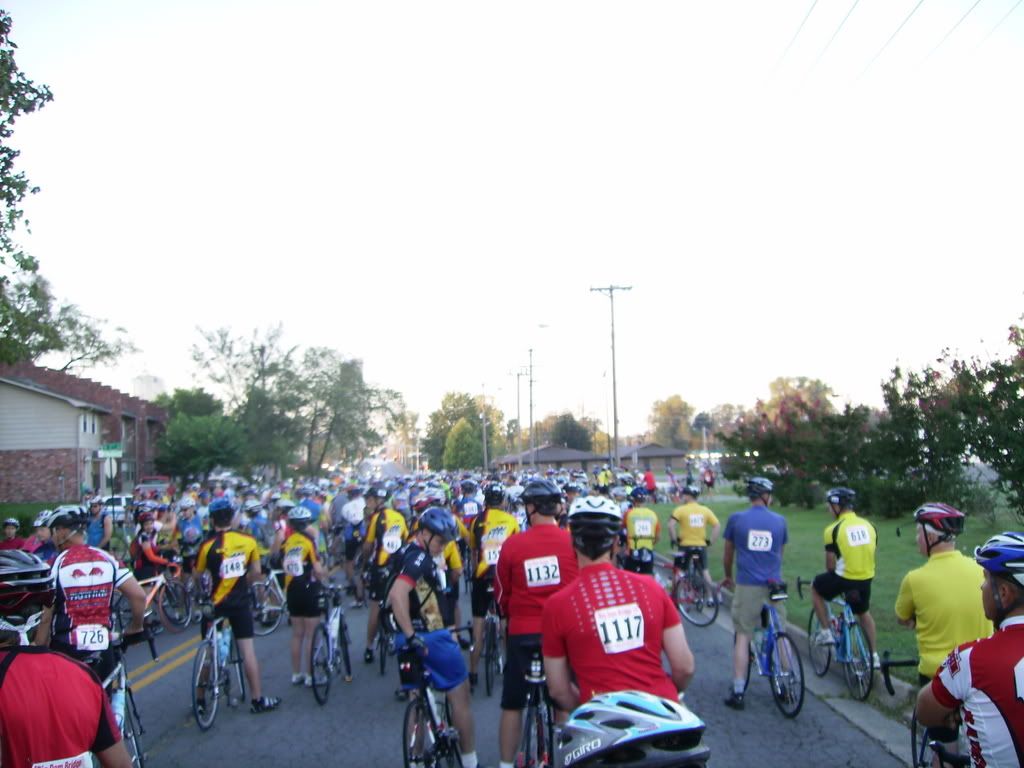 This was what it looked like in front of me close to the start

Most of the Cruisers were fairly close together at the start but with so many bikes it was hard for everyone to stay together. I think I caught up to David on Cantrell and we road to the bridge fairly close together. The BDB was closed to all other traffic (or at least that's what the signs said) so the bikes went across two wide. I lost David in the pack here with me getting stuck behind some slower riders and I couldn't pass. We continued on down the trail and cut back to Cooks Landing where the first rest stop was. I skipped this one as we really haven't been going long. Maumelle Blvd. was a breeze, with some good speed here with minimal effort. The route turned off the Blvd. on to some side streets that I don't remember the name of. There was another rest stop here and this was the turn around point for the 25 mile group. Again, I skipped this stop, everything was working too well. I felt great and the speed was easier than I expected.
On to Hwy 365 to Mayflower. Again, everything seemed easy at this point, I did start encountering some hills here but most were not too bad. I finally caught up to David just before Palarm and there was James Martin, Russ Vines, and I think also Kristina Graham & Del Medlin. We pushed on to Mayflower and the thoughts of that rest stop was looking good to me. My Garmin shows me there at about 1:23:00 into the ride. The Mayflower rest stop was also the turn around for the 50 milers. I knew after this stop things were going to get tough as Rocky Gap Rd going into Conway has some pretty good hills. I did a gel here, ate some cookies and a quarter of a peanut butter & jelly along with some Gatorade.
Nothing too exciting from here to Conway, we really didn't have any pace lines going, the wind wasn't a factor yet and the leads changed several times. Rocky Gap had a couple good hills on it, but also had some good down hills. Pace wise I lost no time here. By the time we hit Conway, I was maintaining a 17.1 mph pace. Maybe a little faster than I expected, but up to Conway, things did seem fairly easy. The group pulled into the Conway rest stop at various times. I had tried to drink from my bottles every chance I got and I usually drank a lot at the rest stops. Peanut butter and jelly sandwiches were plentiful at all of them so I'd eat a quarter of one when I could. Didn't let any grass grow under our feet here or at most of the stops. I saw David pulling out, some of the others were still taking a break. This was the last place I saw James and Russ.
Leaving the Conway stop, we headed down I think Hwy 65 through town to Hwy 286. It was here that we caught the wind. I hate a head wind worse than anything. It just wears you down, slows you down and makes you work harder. This was one of those. Everyone was kind of on their own for this one but it seemed like David & I kept fairly close. 286 seemed to start my struggle a little and I guess everyone else's. If it wasn't the wind, it was the traffic. The road was rough here too so there was no good place to ride unless you were in the traffic lane. Somehow I got ahead of David in here and I was just kind of a lone biker out there for a while. So I found that the white line on the side was about the best for me unless I could get in the traffic lane. Just had to grin and bear it here, I knew Saltilo was not too far and another rest stop. Thank god for those rest stops! They were heaven, and I enjoyed every one of them. I got to Saltilo Grocery and Otto Road and there was no aid station. For some reason I thought it would have been right there but there was a sign just ahead stating that it was about 1 mile ahead. There was a big church there that made a perfect stop. I had to stop here and really get fueled up because shortly we would have the hardest part of the course and some BIG hills.
I wasn't at the rest stop long and David pulled in and then I saw Kristina and Del. Still no James or Russ. Not sure if they left Conway before David and I or if they were behind us. I think I hit this stop just shortly before 11:00am. My pace had dropped in the wind, but I was holding about 15mph+. I took a gel here, loaded up my bottles, got a snack, tried to stretch and took that needed bathroom break. David rode out a couple minutes before me. I wasn't far behind. Otto Road was newly paved it seemed so it was nice and smooth, unlike the State Hwy we were on. The wind didn't seem to be quite as much a factor here as there were a lot of trees in some spots along the road. There were also several hills. Nothing to cry about yet though. I knew they were coming. Otto Road ended with a right turn on Hwy 107, then an uphill to Fortson. This was a solid climb, maybe ½ a mile. I had road some of Fortson a month ago so I knew there were some hills coming up but I hadn't come in from 107. Well, once we turned on Fortson, It was a BIG hill. There was one person that had pulled over just to think about it and get the energy to go up. My brain told me to also, but I knew better. I just had to knock this bad boy out. It was a tough climb, and my bike is not really geared for the big hills I have found. With a double crank, it finds me looking for one more gear that's not there. So I have to sit and pedal, then stand and pedal. This hill I pretty much stood the whole thing. I'd pedal a couple strokes, then sit down and pedal a couple. Or I'd stand and pedal a couple, the coast till I almost stopped, then do it again. Well, I made the top and never stopped. There was a group resting here also. Good idea but I didn't do it. Long downhill from here, and it was rough so you had to break most of the way down. Then comes those two or three really short but straight up hills. Ok, after the first one I was just hoping my legs would hold up over the next one. I had caught back up with David on the first Fortson hill so we both struggled up these little monsters. Again, there were bikers walking their bikes up some of these. Somehow I managed to get over them. A few more small hills and we were at the 60 mile rest stop. I was READY! I think I filled my water bottle twice here, got some PB&J, a pickle, stretched a little. Didn't stay long, I was thinking 89 to Mayflower was flat! Ha. So we were off. A mile or so down the road here I noticed my Cat Eye had quit working. I figured maybe the little magnet had moved or something on the rough roads so I slowed down trying to figure out what was going on. Shortly I just pulled over and check everything. I wiggled something and it started working again. David was ahead of me a pretty good ways now so I just rode on. Parts of this section were flat and I did encounter some pretty good wind here. It seemed like I'd have a good pace going and then I'd slow down. My shoulders were hurting now and my neck so I kept trying to change positions with my hands, do stretches or whatever to get through it. Like David had told me, the last part we were going to just have to gut it out. So I was trying.
89 had some hills I found out. Maybe two or three pretty big ones that slowed me to a crawl again. I really thought they should use the slogan "what hills?' on the 100 mile t-shirts. This was starting to be no fun. I actually think the hills and wind took so much energy that I probably hadn't drank or fueled enough. I tried to drink more from my bottles as I knew Mayflower wasn't too far away and 35 miles was not that far, I had done that many times. I finally struggled in to Mayflower, as David was parking his bike. I had already decided when I got here that I no longer cared what my time was, what my pace was or any of that. I just wanted to finish. I took a little extra time here, doing the usual and again taking a gel. I sat down for a couple minutes and felt better. Before I left a guy pulled in the parking lot, got off his bike and fell out on the grass. MEMS was there and quickly came over to check him out. He was ok and back up, sat in a chair for a bit and I think he got going again. I think a lot of people were struggling at this point.
David pulled out before me as he had a goal of getting across the finish line before 2:30. I hope he made it, I'm not sure as I didn't see him at the finish. When I started back out, traffic was pretty bad, and all I could think of was 25 miles to go. That's not far at all! Yeah right. Again, I had to fight the wind. I think it was following us just to slow us down or something. No matter what direction it had its toll. I didn't ride too hard here, I was feeling everything. My neck, my shoulders, my knees, my feet. Then I started getting a weird feeling in the back of my leg. All I could think of was cramps and I didn't want them. I had seen way too many people today with cramps. I tried to hydrate every time I thought about it. Whatever it was went away. Again, 365 had a few decent size hills. I just slugged them out. At about mile 88, Marianne and Heather passed me. The only time I had seen them today was at the start. They looked like they were feeling good. I thought to myself, two Ironmen (women) just passed me at mile 87. They defiantly knew what they were doing.
I finally made the Maumelle rest stop. It was a welcome sight again. I ate a cookie, did a gel, some good cold water and sat for a little while. Frank Massingale was there from the Grand Prix series and he told me he was struggling and had thought about calling his wife to come get him. Well, at this point I could understand that. It was tough. I probably sat here too long but I didn't care. Well, at least it seemed long to me. Don Fleming pulled in while I was there too. I got going again, and had already decided this stop was taking me to the finish. I could not wait to get on the River Trail as I knew there were no cars and smooth sailing. Only one or two small hills to deal with and they were nothing compared to what we went across. By the time I hit the river trail I just went with an easy gear and just went in slow. I didn't have the extra to give and wanted just a little at the end. Right before the golf course I heard my name and it was Marianne and Heather again. They had stopped for water at Cooks landing. I felt better about my ride knowing that I was that close to these two experts. I noticed some of the other bikers ahead of me just easing to the finish. I think everyone was pretty much done.
Finally, I hit Broadway and made the turn on Main. I was thinking there might be some crowds at the finish but there wasn't. The road was lined for about a ¼ mile with steel barricades much like the Tour de France finishes. But there were no people. I crossed the finish line looking at the clock. They handed me a little pendant for finishing. I saw Marianne again, grabbed some water and headed to load my bike. I was done. Today, at least for me, I think a full marathon would have been easier. The last 25 miles felt like one of the hardest things I have ever done but I am glad I did it. Next year I will train better and have a time to beat. I wish I had gotten more photos but its almost impossible to ride and shoot at the same time. At least I haven't got to practice it yet.
Here are my final times:
I crossed the finish line at 3:18 per my clock
Official Race time – 7:49:35 (but they don't give this to you, you have to look as you cross)
Bike Time – 6:34:52 – (this is what most people use)
Avg. pace 15.0mph
Total calories burnt - 5478 cals.

Average heart rate - 154

By the way, my butt really doesn't hurt! I still can't believe I pedaled for 6 hours and 34 minutes! I am kinda brain dead, think its from the weight loss and dehydration. Legs feel pretty good now too.