I had big plans for Thursday after work. Annette and I were going to run 5 miles around 6:30ish. I needed the miles for the week but some days it's just not meant to happen. This was one of those nights.
As a volunteer firefighter you never know when the next call will be. Sometimes we go days with out anything, even weeks. Though we usually have minor medical calls everyday. Then all of a sudden, boom......all hell breaks loose. It usually happens after a slow time when we have low call volume. The fewer calls we get, the more we all know that something bad is going to happen. It always works that way for some reason. Thursday night is one of those nights.
Incident #1
-
Grass fire
About 6:20pm, we get paged out for a grass fire off of Carrington Rd. Evidently some guy had been burning on his property there all day. I had gotten several calls from fellow firefighters asking if I saw all the smoke. There was big black smoke in the area all afternoon. Black smoke usually means rubber or some plastics burning. Well, no one called 911 until 6:20 so since it was in my fire district and I was most likely the officer in charge I took off. En-route I got a call from one of our guys that told me he went down there earlier in the afternoon and it was one of those places you don't want to go into without law enforcement being with you. No Trespassing signs were all over the place. The strange thing on this was that it was located in Lonoke County and wasn't even our jurisdiction. We told dispatch that this was in fact "Lonoke County" and not Pulaski County. They told us that the City of Cabot had refused to take the call. This was the start of the cluster for the evening.
We went ahead and responded with 2 brush trucks and one Engine along with myself in my personal vehicle. We never refuse a call no mater where it is, even though we "don't" get paid for it. We requested PCSO to send a Lonoke County deputy to the scene before we went in. So we waited. I decided to drive down as far as I could and take a look. When I got to the end of the paved road, it looked like a scene from Deliverance. A bunch of old trailers, some abandoned and most all with No Trespassing signs around the property. Just not one of those places where you want to be without armed backup. There was still light black smoke showing in the woods, but I couldn't see the fire. Since there was no one there to meet us, I knew it was pretty much a BS call, only thing, whoever was burning was burning something illegal. The only thing you can really burn legally is yard waste. This was not yard waste. I turned around and went back to where everyone was standing by at the other end of the road to wait on the deputy.
After probably 15 minutes or more, the Lonoke County deputy finally arrived. We also had a Mtn. Springs Engine on scene. I had asked them if this was their area and they said no, Cabot had agreed to take calls on this since it was closer to the city. Bottom line was, this was what we call a "no mans land" that no fire department really had coverage on. What really irked me was the fact that this was Lonoke County and we were a Pulaski County department. So why were they wasting our time when it was their county??
I guess the deputies didn't want to go in first so they followed our brush trucks and Mtn Springs engine in to the scene. About the time this was going on, we heard Cabot Fire getting paged for a motorcycle accident at Fortson and Hwy 89. Myself and the Captain on E65 kinda shook our heads in disbelief. Why would Cabot get paged out for a call there?? That's OUR area and about close to 10-15 miles from the city limits. We heard them go enroute, and about that time MEMS requested us since Fortson and 89 is our district in Pulaski County. I advised the crew on the brush trucks to handle what they had, that I was responding with Engine 65 to a motorcycle accident.
Incident #2 - Motorcycle Accident


At probably 6:50pm we went enroute to the Motorcycle accident. Dispatch advised that Airevac was en route also so we figured it was bad. I requested an additional page from dispatch in case we had people closer to the scene as we were at least 10-15 miles away. We sped away with me following Engine 65. While en route, Hilltop Fire Department from Faulkner County advised that they had a unit on scene and that airevac was en route. We knew MEMS was en route also. I was thinking in my head what our job would be when we got there, so I figured it would be to land the chopper.
Then the weirdness started.....we were talking to MEMS on the radio and they advised that Cabot engine 3 was in front of them. WTF??? Why were they responding out in the county when they wouldn't take a call a couple miles from the city limits? Sure enough, when we got on scene we started assisting in setting up an LZ for the chopper. I found a nice field about 800 yards from the accident scene. Cabot Fire was on scene, then we saw a Cabot Police car. WTF?? Why is PD way out here? Well, the Pulaski County deputy told us that Cabot evidently was in pursuit of this guy on the motorcycle and he eventually crashed. The way I heard the story and this is NOT official was that Cabot didn't even advise Pulaski County that they were in pursuit. This would be a common courtesy when you cross county lines or jurisdictions.
Now things started adding up. The Cabot police officer was chasing this guy on the bike, he failed ask for help from Pulaski County, and then the guy crashes. So he calls his city dispatcher and requests their fire/rescue. Makes me wonder if he was doing everything the proper way. Oh well, not our call. The PD's can work that one out. We had to land the chopper. I made it a point to ask one of the Cabot firemen why they were way out here when they "refused" to take a call next to the city limits. He told me that the fire department hadn't refused any calls, that it must be "new dispatchers". Ok, whatever. They were putting city fire protection in jeopardy and had put our district in jeopardy by us having to take some BS call in their county.
Not much to do now but wait on the chopper. The patient was loaded in back of the ambulance and there was plenty of help. Chopper came in, patient got loaded and we were done. Not sure of his condition other than he was alive. I headed home thinking about how crazy these two calls were, Cabot should have been on Carrington and we could have handled the motorcycle wreck with one engine company. By the way, the guys cleared up on the grass fire pretty quick so I figured it was just a BS call. I could have been home getting my 5 mile run in!! Thats the way it goes though. I'd make it up later.
Air Evac on the ground
MEMs waiting on chopper
It was dark when I got home after 8:00pm. I changed into my running gear and decided to do some weights upstairs and maybe run on the treadmill. Did about 30 mins of abs, weights then I tried the treadmill. I couldn't do it. The treadmill just sucks so I said to hell with it, changed and fixed something to eat. My night had been shot with back to back calls.
Incident #3 - 4 Vehicle MVA 67/167 (warning - may be graphical)
I got to bed about 10:30pm after having a late dinner and getting caught up on everything else. I was sleeping really good when about 11:15pm my pager goes off. All I heard was "we need you to respond to a 4 vehicle MVA 67/167 with entrapment". Damn. This was NOT going to be a good night I could tell.
I jumped up out of bed, threw my clothes on, stuck my contact in and I was out the door. As a volunteer firefighter, everything I need is right by the bed and usually in less than one minute, I can be fully dressed and partway out the door. The majority of calls are not life threatening, but when entrapment is involved, every second counts. The goal is always to get a severe trauma patient to a trauma center in less than an hour. They call this the "golden hour" as the chances of a severely injured person making it after that decreases rapidly.
While driving to the station which is 3 miles from my house, my first thoughts were who was going to show up for help. Was I going to be the only one at Station 3? How bad was the wreck really? Was it on the interstate, service road or what? Luckily radio traffic starts painting the picture. While scanning I heard that Cabot had two engines responding. The other Captain at my station asked me what my ETA was and I said about 2 mins. I was glad to hear Bobby as he was an EMT, worked for MEMS and one of the best firefighters on the department. We had worked together for 13+ years so we knew what each other could do. I sped up, trying to get to the station as quick as possible. When I pulled in I saw that we also had two other firefighters at the station getting suited up. Reginald, a veteran of about 3 years and Ryan, a rookie. Bobby was driving tonight, usually I drive but when both of us respond we just take turns or ask each other who wants to drive.
We went en route, not knowing exactly where the wreck really was other than 67/167 by Ace Liquor. MEMS had just passed our station so we could see them just ahead as we turned on Hwy 5. From the radio traffic, I knew Cabot had just got on scene and I had seen them going down TP White when I came across the freeway. Riding as Captain on the engine, I was responsible for everyone on that engine and what we did. Bobby asked me which way and I said TP White. About that time we see MEMS doing a U turn at the intersection of 5 and 367. They entered the north bound exit ramp going the wrong way so we did a U turn also and followed them. I knew this was bad if the freeway was shut down. Going the wrong way on the freeway is a pretty weird feeling.....you hope you don't see any lights coming at you. Even though we had emergency lights and siren, people just don't pay attention. We saw nothing on our side coming at us.....it was a strange feeling to say the least. We soon saw all the emergency lights. We were on scene.
What we rolled up to was pretty much a disaster zone, with orchestrated mass confusion going on at the same time. We had at least 4 vehicles, 3 of which appeared to be head on impacts. There was multiple fire companies on scene. Jacksonville had an engine and rescue company. Cabot had two engine companies. We had our engine company on scene and another engine company almost on scene. Needless to say, there was plenty of help. Cabot was doing extrication on a Dodge truck, Jacksonville was getting a patient out of a Camry. There was a Chrysler 300 with the front bumper at the dash with one female fatality in it. Our goal was to get the living out and to the hospital as quick as possible. I helped Jacksonville and MEMS get the lady out of the Camry. She was alive, but very large. I'd estimate 200lbs or more. Luckily we did not have to cut the doors open or anything, just get her on a backboard and in the ambulance. It took 5-6 guys to lift her and get her on the gurney. We also were setting up an LZ (landing zone) for Med Flight. Since the freeway was shut down, we set the LZ up right in the middle of the freeway just north of our scene. The other patient was out of the truck and loaded, headed to the chopper that had just got there. During all of this I learned that we had another fatality in the back seat of the truck. Our job was done for now....we had to wait on the coroner to get there and give us the ok to get the dead people out. 2 dead, one patient flown by chopper, two transported by ambulances. So now we got to wait.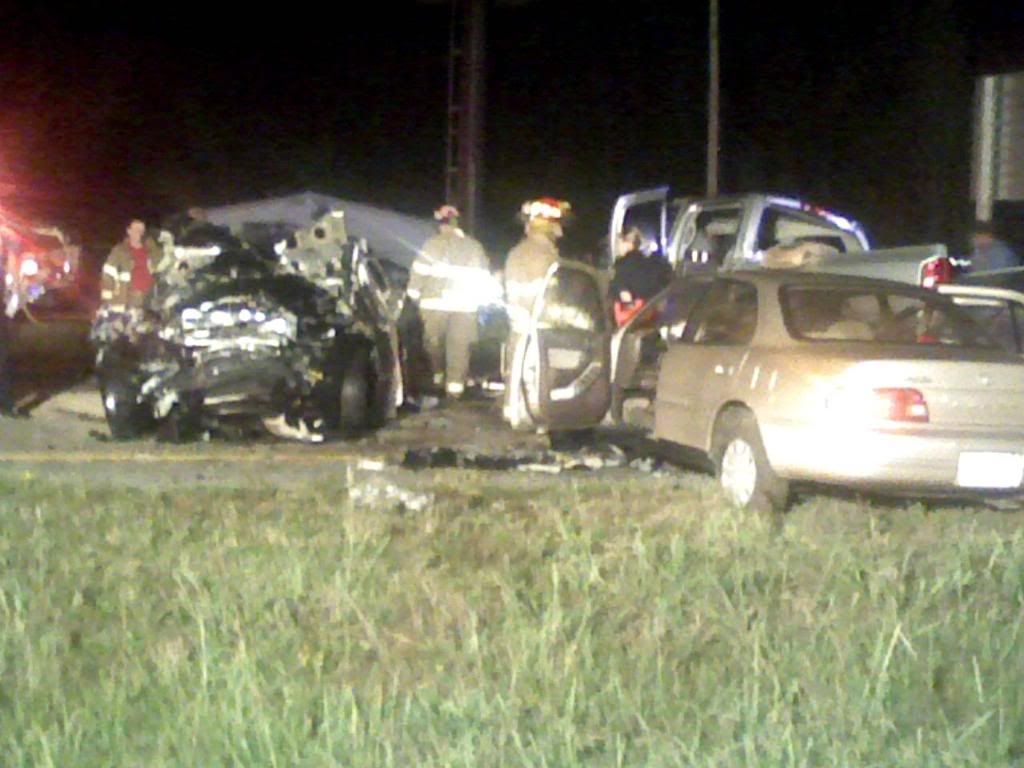 Our department took over command and released Cabot to go back to the city. Jacksonville released their rescue truck but their Engine company was stuck on the freeway so they stayed. We started making a plan to get the lady out of the Chrysler. This was going to be a tough extrication. We unloaded our spreaders and cutters (jaws of life) and got everything set up. We had a plan, all we needed was the ok from the Coroner. He arrived fairly quickly, did the normal photos, etc. then told us to do our thing. We picked the truck first. The lady in the back seat was not entrapped and had no visible trauma. The sheer impact of probably a 70mph impact killed her instantly. The sad thing was, she looked fairly young, mid 20's to 30's. She had been riding in the back seat and even had her seat belt on. The right side rear door was jambed from the frontal impact, but the left rear door was open. Bobby climbed in the cab to see if we could get her out from the left side. Another firefighter was in the front trying to help him lift and I was at the legs. We tried to lift and pull but didn't have much luck. She was kinda wedged between the back seat and the front and all her weight was on the right side. We just couldn't get enough leverage and manpower to get her up and out from the left side. So we went to plan B. We took the spreaders and popped open the passenger rear door. This only took maybe 3-4 minutes at most. Once the door was open, we were able to slide her right out. It's over when the Coroner zips up the bag.
We still had one more, and this was going to take some major work. This car was pretty much flattened from the front bumper to the dash from the direct head on impact with the truck. The car did do a good job protecting the passenger compartment, but an impact this severe would kill anyone. The sheer movement of your internal organs is what kills a lot of people in these cases.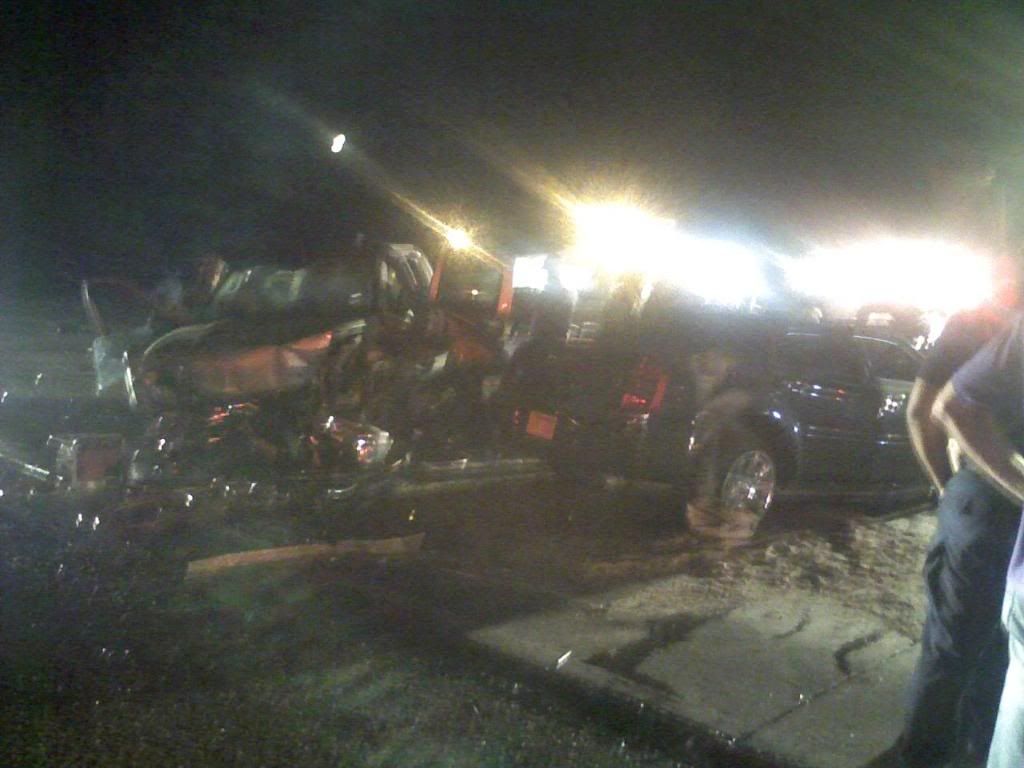 We had two tools going at once, Jacksonville had a spreader going on the drivers door and we had cutters going on the A post (windshield post). Our plan was to cut the A, & B posts(center pillar between frt & rear doors) , remove both doors and and totally remove the B post. Then try to lay the seat back. This would all be dependent on her feet not being trapped under the dash. If so, we would have to also do what we call a dash roll and push the dash forward. After several minutes of cutting and spreading, the doors were removed and the A&B posts were cut. Jacksonville used a battery powered sawz all to cut some of the plastic trim loose so we could totally take out the B post. After this was removed, we tried the seat but it was broken and would not lay back as we had hoped. We decided that we would take the cutters and cut the bottom hinge on the seat. Fast work was made of this and soon the seat back was out of the way enabling the removal of the body and giving the coroner another customer. The nasty stuff was now over. But we were not done. The wreckers had to come in, then the road had to be cleaned up. There was debris all over the highway. Glass, oil, transmission fluid, plastic parts, metal parts. It was a big mess. Once the State Troopers said it was ok, the wreckers started loading the vehicles up one by one. We started putting down absorbent to clean up the oil and fluids as this could cause another accident. After we got this down and swept it around, we charged a hand line from my engine and sprayed the road off. We loaded our hose up quickly and proceeded to get the freeway back open. After close to 3 hours I'm sure the ones that were stuck on the freeway were anxious to get going.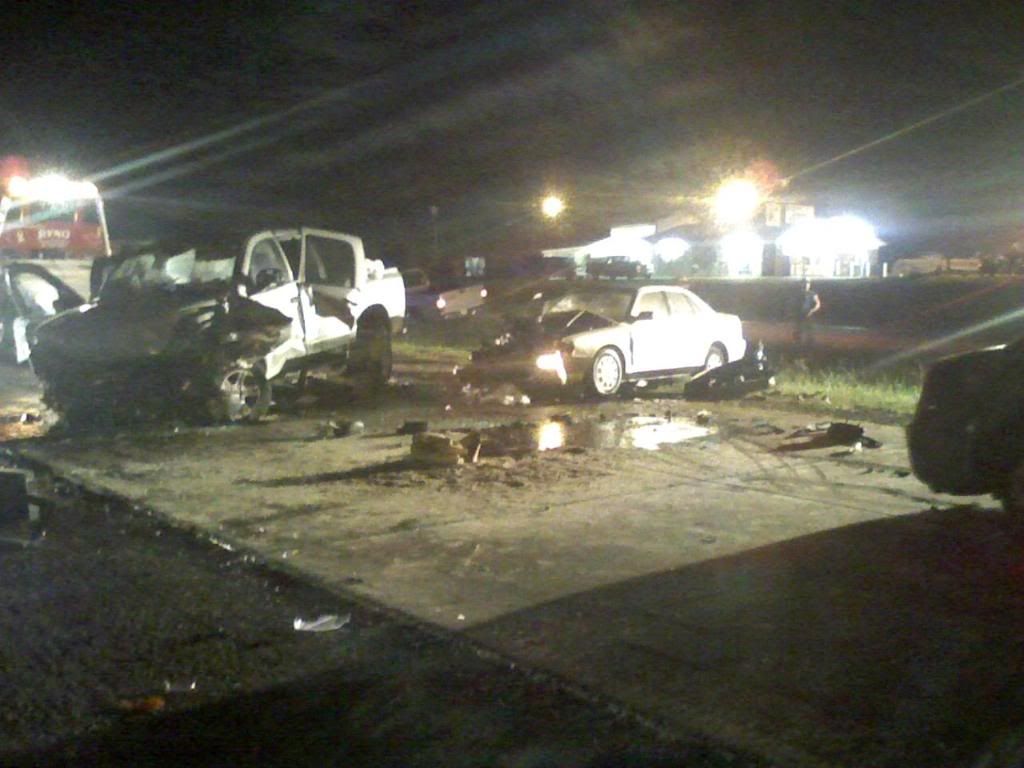 As we left the scene, we knew we were not done. Now, we still had to re-fuel the engine, roll our hose back up and re-fill with water before we could go home and get some sleep. Just because you leave the scene doesn't mean the work is done. We stopped and re-fueled and then caught a hydrant at T Ricks to refill the tank water. Hose was rolled and we were back in the station. Then of course, we all have to talk about what happened, what went right and what went right. If normal people heard some of our conversations they would think we are warped for sure.
Unofficially I had heard that the Chrysler had been traveling down the freeway the wrong way. It seems State Police had gotten calls before the wreck and were trying to catch the person. Some said the car was seen as far north as almost Searcy traveling the wrong way. We wondered how in the world someone could make it that far and even more so, how could you not know you were going the wrong way. Was it a medical condition? Drinking? This lady did appear to be older, maybe 60's +. We may never know or hear exactly for sure what happened. The truck had Texas tags and there were bags in the back. Probably someone traveling or visiting relatives. This is just some of what I heard and saw so it doesn't mean thats all the facts.
This wreck just added more victims to what I call "the Bermuda triangle". Seems there is this black hole between mile marker 14 and 16 on 67/167 that is probably the deadliest stretch of road in the state. Just one month ago we had another multiple fatality accident just 1/2 a mile north of where this one was. The body count on this stretch of road is getting way too high. Be extra careful if and when you travel it!!
I finally got home and to bed a little before 3am. I was happy that Friday was not my long run day.
Click
HERE
for article on this accident from the Leader Newspaper.