Post ride:
I'll have to say I slept pretty good last night. Got about 8-9 hours of sleep. My legs feel great this morning, no major soreness at all. In fact my neck and shoulders are more sore than my legs. This morning it seems much better than it was last night. And I'll back up and say that I'm sure at least my recovery from the marathon will be much worse.
Here are some photos of some of the group & friends: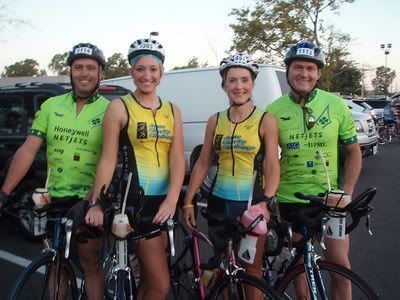 Left to right, Curtis Davis, Heather Bender, Marianne Park and Gary Davis.
Curtis and Gary finished the ride at 05:08:00. They did not even stop at any of the aid stations, they carried everything with them. They are "animals" when it comes to biking and running. If you want to see two guys that train hard, these are the ones. They also do Triathlons. Great guys and I look up to them a lot.
Heather and Marianne just completed Ironman Kentucky. They are the "animals" on the womens side. Ironman KY was a 2.4 mile swim, 112 mile bike, and a 26.2 mile run! Thats all in one day! All I can say is "amazing"....these girls rock! Somehow I finished the BDB just a few minutes behind them, obviously they were not racing it.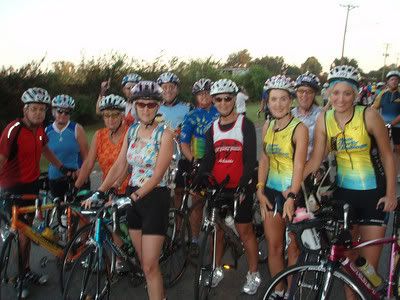 This was part of the Cruiser group right before the start. They asked me to hold my finger up since it was my first 100 miler. You can barely see me in the background. What a great group of people!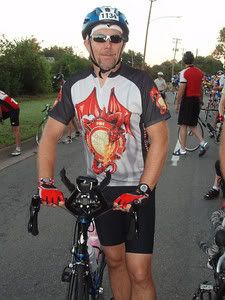 This was me right before the start. Marianne went on and on about my "Firefighting" jersey and how cool it was. It was the only one out there so it was easy to spot me.