I was up at 5:00am this morning, got
Annette
out the door and we picked up Brenda and Kim for the plane ride to Chicago. I was more than happy to provide the transportation as they are the ones that will be racing. It was my gift to them I guess you could say. I think I am about as excited as they are. The weather is not going to be the best there, calling for up to 88 degrees on Sunday with moderate humidity. Everyone was hoping it would be cool so the times would be better but the thing is, they have all trained in the heat so they are prepared for it. I know they will all do great!
Here is a picture of Annette, Brenda and Kim as they are getting ready to go in the Airport.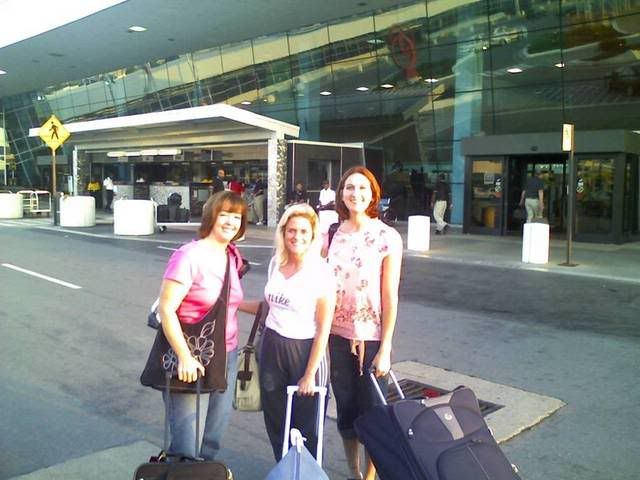 Annette
had some really cool running shirts made up for the girls running. Each one had their name at the top in bold. Pretty cool!
I did get my run in last night, part of it in the dark. I only ended up with 3.7 miles but it was faster than my other runs this week. I think my first mile was like a 9:34. Ended up with about a 10:27 overall pace. At about mile 3 I ran into Kevin, one of my neighbors that was out running so we walked and talked for a few. Probably would have had a better overall if not for that but thats ok.
Saturday my schedule calls for 18 miles. Whew, its going to be warm too. I am starting at 6:20am and getting about 2.2 plus miles in before hooking up with the group at 7 for the rest. I am planning on setting my garmin up and using the virtual partner program to pace me. I'll probably set somewhere between 11:25 and 11:50 just to see how it works out. I know I will be running some of the miles much faster than that though, but 11:25 is my marathon pace goal or pie in the sky goal anyway. That gets me done around 4:59:00 which would be awesome. We shall see how it works out. Hopefully I can get to bed early tonight and get some sleep. Late night last night and up very early today so I am running short.